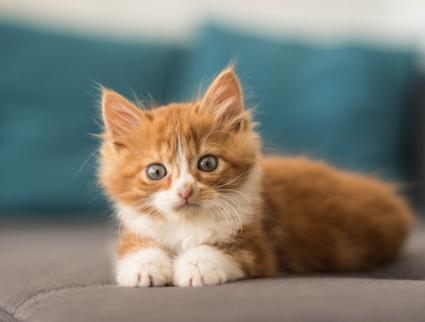 The secret to choosing a cute and creative kitten name is knowing your kitty and what you like. Take a good look at your adorable furry friend, think about the most name-worthy foods and celebrities, and browse this awesome list for inspiration.
Kitten Names Based on Color
Your kitten's fur may be her most prominent feature until her personality emerges. Whether she's black, white, gray, orange, yellow, or calico, you can draw on your creativity to give her a unique moniker.
Orange Kittens
Caliente: Cali for short
Salsa
Chili
Paprika
Tamale
Sunset
White Kittens
Frosty
Icy
Pearl
Snowball
Snowflake
Marilyn Monroe
Andy Warhol
Black Kittens
Midnight
Ebony
Shadow
Indigo
Mephistopheles: Mephisto for short
Grimalkin
Gray Kittens
Ash/Ashley
Cinder
Ghost
Periwinkle
Smoky
Misty
Yellow Kittens
Mooney
Sunny
Daffodil
Buttercup
Goldie
Gold Brick
Brown Kittens
Cocoa
Coffee
Mocha
Cappuccino
Latte
Dutch
Fur-Based Kitten Names
If your cat has an unusual coat or markings, consider using one of these names.
Striped Kittens
Tiger
Tigger
Jailbird
Soldier
Long-Haired Kittens
Wookie
Rapunzel
Godiva: From the legend
Nugent: As in Ted Nugent
Hairless Kittens
Slick
Chilly
Suede
Mr. Bigglesworth: For Austin Powers fans
Fluffy: For those who appreciate irony
Kitten Personality Names
If your kitten lets her personality be known early on, give her a name that suits it.
'Wild Cat' Personalities
Taz: Short for Tasmanian Devil
Blitzen
Cyclone
Twister
'Laid-Back' Personalities
Dreamer
Jerry Garcia
Phish
Mischievous Personalities
Cheshire
Beelzebub
Diablo
Hecate
Themed Cat Names
If you have a litter of kittens, or you just want to give your kitten a name that has its source in something else, consider a themed name.
From 'Cats,' the Musical
Rum Tum Tugger
Munkestrap
Grizzabella
Victoria
Gus
Food Names
Ambrosia
Apple
Brownie
Burrito
Butter
Caviar
Chowder
Cinnamon
Couscous
Crouton
Cupcake
Gingersnap
Ham
Hot Dog
Ice
Kiwi
Lollypop
Muffin
Munchkin
Nacho
Nutmeg
Oatmeal
Oreo
Pancakes
Peaches
Peanut
Peanut Butter
Peanut Butter Cup
Peppermint
Pepperoni
Pickles
Pita
Rice Krispies
Sweet Cakes
Tabasco
Taco
Waffles
Yogurt
Zucchini
Drink Names
Amaretto
Budweiser
Iced Tea
Mai Tai
Merlot
Sambuca
Southern Comfort
Tanqueray
Tequila
Place Names
Amazon
Bangkok
Burbank
China
Dakota
Frisco
India
Indiana
Jersey
Katmandu
Maui
Phoenix
Sedona
Starbucks
Utah
Woodstock
Yukon
Funny Kitten Names
Have some fun with your kitten's name with one of these punny name ideas.
Names That Play on Words
Apricat
Captain Kitty
Cat Benatar
Faux Paw
Great Catsby
Imakat
Katy Purry
Kitty Kurek
Ali McClaw
Catpuccino
Furnando
Kali Cat
Katy Kirstie
Alley Kat
Kit Kat Kitty
Lickerish
Mr. Puddycat
My Cat
Putty
Snapcat
Tweetie Pie
Walter Croncat
Leonardo diCatprio
Other Funny Names
Adipose
Bugs
Buttons
Chewy
Furby
Fuzzmeister
Gizmo
Hunter

Killer
La Luna
Luster
Meowzer
Mouse
Mr. Meow
Mr. Thumbs
Pipsqueak
Poopsie
Scratch
Shamu
Sir Purr A Lot
Squeaky
Tickles
Tootles
Yeti
Your Highness
Yum Yum
People Names
Names that work for people also work well for cats.
Everyday People Names
Albert
Barnaby
Bob
Clancy
Chloe
Emily
George
Henry
Jezebel
Julius
Lucy
Mimi
Ralph
Rose
Rudy
Sam
Scarlett
Toby
Zoe
Famous People Names
Adele
Beethoven
Beyonce
Bieber
Bono
Churchill
Drake
Dylan
Einstein
Elvis
Garfunkel
Hamilton

Idris Elba
Iggy Pop
Ivanka
Kanye
Keanu
Kobe
LeBron
Lorde
Madonna
Michelangelo
Miley
Mozart
Mr. T
Ozzy Osbourne
Pippa
Princess Kate: Goes well with Pippa if you have two female kittens
Rihanna
Ringo
Selena
Shakespeare
Shakira
Shirley Temple
Sir Winston
Socrates
Stevie Nicks
Trump
Tyra
Wadsworth
Wolfgang
Yoko Ono
Names From Pop Culture
Pick a character from your favorite book, movie, or TV show. You might also choose
Character names
Anakin
Ariel
Bella
Bilbo Baggins
Buffy
Carmen
Cersei

Daenerys
Dora
Dre
Elsa
Felix
Gibbs
Harry Potter
Hermione
Juno
Fiona
Gandalf
Katniss
Kylo
Leia
Mr. Bean
Penny
Rainbow
Rambo
Sheldon
Sherlock
Spock
Tarzan
Tinkerbelle
Tyrion
Yoda
Zeus
Ziva
Zorro
Other Mod Names
Armani
Bada Bing
Bigly
Chanel
Cray Cray
Dior
Emoji
Gucci
Hipster
Prada
Tardis
Tesla
Tweet
Uber
Versace
Weezer
Yolo
What's Your Favorite Kitten Name?
Don't see a favorite? Whether he is a boy or she is a girl, you may still find some inspiration for a name that's original and perfect for your cute little fur ball. Whether you go the more traditional route and choose a name like Muffin or you prefer more human-sounding names, don't rush the decision if you don't have to. Think outside the box - maybe the name of a video game character or a unique horse name suits your kitten! After all, this is the moniker your kitty will have for life, so choose wisely, and she may come running when you call her name.