Where to Find Christmas Cards With Kitten Photos
Christmas cards with kittens can add a charming touch to your holiday greetings. There are many options available, including ready-made cards with stock photography or personalized cards featuring your pet. Either way, these greetings will be sure to fetch a smile from the cat lovers on your mailing list.
Ready-Made Cards With Kittens
If you love cats but don't have a good picture of your pet, you can purchase one of the ready-made cards available on the market. These stock cards display professional photos of kittens in all kinds of holiday attire or with Christmas-themed props or backgrounds. There are even cards that feature specific breeds.
General Kitten Christmas Cards
Several card retailers offer a good selection of kitten images to choose from. Consider one of the following resources:
Holiday Card Center - This greeting card website has an extensive selection of kitten cards. Some feature kittens and puppies together, and others focus solely on kittens and cats. Most cost about $26 for a set of 25 cards.
PaperCards.com - Specializing in all kinds of paper greeting cards, this website has an amazing selection of cat and kitten-themed holiday options. Most offer humorous photos of kittens in holiday situations, and many also have funny greetings involving puns. This retailer sells cards individually from under one dollar to over four dollars.
Amazon.com - Although Amazon doesn't specialize in greeting cards, the retailer offers an amazing array of kitten-themed holiday greetings. You'll find everything from images depicting Santa with kittens to photos of kitties in holiday hats. Cost varies significantly depending on the product or retailer, but you can easily find many options for around one dollar per card.
Animal Stars - This retailer offers cards with both cats and dogs. The cat cards feature grown cats or kittens in a wide variety of poses. Many of the cards feature cats with Santa hats or in gift boxes, and this makes them the perfect Christmas missive. The cards retail for about $2.50 each.
Greeting Card Universe - This site has more than 1,000 different cat- or kitten-themed greeting card designs for Christmas. Many showcase photos of kittens in winter landscapes or with holiday backgrounds, and you can customize the text to fit the recipient. The cards retail for about three dollars each.
Breed-Specific Kitten Cards
If you love a specific breed of cat, chances are good that there's a card design out there with your favorite animal. Consider some of these charming options:
Ragdoll - CafePress has a spectacular Christmas card featuring three Ragdoll kittens in a sleigh. It retails for $15 for a pack of 10 cards.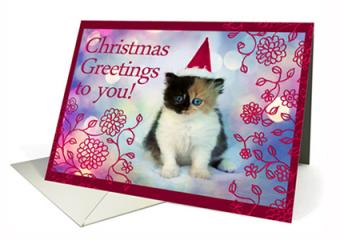 Persian - Greeting Card Universe offers an adorable card with a Persian kitten in a Santa hat. It sells for about $3.50 per card.
Russian Blue - CafePress has a sweet photo card of a Russian Blue kitten in a Christmas stocking. It costs about $3.50 per card.
American Shorthair - Zazzle offers a greeting card with an American Shorthair in a Santa hat. It sells for $3.60 per card.
Make a Kitten Photo Christmas Card
To add a true personal touch to your Christmas cards this season, consider using one of the many services available to create photo greeting cards featuring your kitten or the kitten of a family member or friend.
Where to Order Cards
Gather your favorite photographs and head to the local drug store or Wal-mart. These stores offer in-store services where you can scan the photograph and print greeting cards. You can also order greeting cards.
Elli has a vast assortment of customizable card designs including their adorable "Kitty Dreams" card template.
Shutterfly allows you to upload your digital photographs and create a unique Christmas greeting card.
TinyPrints is another great option. Many of their cards come with unique edge treatments to give your kitten photo a high-end touch.
Ideas for Kitten Photos
Taking photos of your pet can be fun, especially if you go with a creative idea. Try one of these options:
Tie a Christmas ornament to a string and encourage your kitten to chase it. Snap photos of him or her batting it around the room.
Put a miniature Santa hat on your kitty and start taking pictures.
Make a cozy nest for your kitten under the tree and wait for her to fall asleep. Take photos of your pet sleeping beneath the holiday lights.
Place wrapped presents in a pile and put your kitten on top. Take photos of him playing with the ribbons or biting the paper.
Cute Text Ideas
Many photo sites offer pre-made greeting card templates, but in some cases, you can add text. Try these ideas:
"Have a very meowy Christmas!"
"Hope your holidays are purr-fect!"
"Look who's waiting under the mistletoe!"
"Visions of field mice danced in their heads."
Adorable Christmas Greetings
Whether you choose to make greeting cards with pictures of your pet or you decide to purchase pre-made kitten photo cards, your Christmas greetings will be adorable. These cards make a unique choice that will please cat lovers on your mailing list.