Stuffed Animal Cats That Purr
When having a live cat isn't possible, the next best thing is finding a stuffed animal that actually purrs. The purring noise adds a realistic touch to any plush cat, giving adults and children alike the same satisfied feeling that comes from petting a real cat.
Scruffies
Scruffy pets are simple plush purring cats that come with relevant sounds and an adoption certificate. The Scruffies brand offers two, white purring stuffed animals for kids to enjoy. Because of their low cost, these toys are ideal for younger children who might be more rough on them. If they get broken you could replace them inexpensively or won't be as upset about the money spent. The only drawback of their simple designs is they may not hold a kid's attention for long because they have limited features.
Sparkle My Glowing Kitten is a soft white cat in a seated position with pink accents on the ears, paws, collar, and light-up hair bow. For just over $15 kids, ages three and up, have a fun new pet that purrs and meows. Reviewer madmamma7 says " it sounds just like a real cat." Young stuffed animal lovers can use this cute toy as a night light to help them get to sleep.

My Best Friend - Chloe is also a soft white cat, but this one is in a lying down position and comes with a quilted fish toy. When kids take the toy away, the cat whimpers. But, when you give Chloe her stuffed fish she'll purr with delight. This simple stuffed animal pet costs around $10 and is great for kids ages three to six.
Little Live Pets
Parents with a moderate budget can satisfy their kids' desires for a lifelike pet toy with Cuddles My Dream Kitten. This longhair off-white kitten has gray ears and bright blue eyes. Cuddles opens and closes her eyes, nuzzles her head into you, spins her tail, purrs, and "eats" from her food dish. With a cost of about $60, this electronic pet feels like a real cat without the large price tag of other versions and time-consuming care of a real animal. Kids ages seven and up who are more capable of caring for electronic toys are great candidates for this stuffed animal. The major drawback is older kids will likely want more from their "robot" cat and could get easily bored with this one.
FurReal Cats
Hasbro has a line of stuffed animals called FurReal Friends that are made to move and sound like real pets. Within this collection are several lines of stuffed animals including a variety of cats that purr.
Kami My Poopin' Kitty not only purrs when she's happy but eats treats then poops when you take her for a walk on her leash. This Siamese kitten comes with a detachable leash, pellets used as treats that "turn into" poop, and a cleanup bag. For about $25, kids ages four and up will get a real sense of what it's like to care for a real cat. Children love watching the cat poop, however, the cat food and its poop are the same things which makes it seem like you're feeding the cat its poop.

If adorable is what your child is after, they don't come much cuter than the Cuties Kitty which costs under $10. This palm-sized round kitten has exaggerated eyes as she licks her paw. When kids snuggle their new pet, it purrs and meows like a real cat. Recommended for ages four and up this gray striped kitten is great for boys or girls. Parents of young children or on a budget love this inexpensive option that covers the basics for kids of being snugly and purring.
The Fuzz Pets Fabolous Kitty in white has short white fur with patches of brown, a long fluffy brown tail, and long eyelashes. She loves being groomed with her brush and be pet by her owner. When children pet their new friend, she makes real cat sounds, moves her head, and even blinks her eyes. With a cost under $15, this adorable kitten standing on her back legs makes a great companion for young kids. This kitten is great for kids who want to take care of their new pet, but won't feel as cuddly as other toys with fluffier fur.
If budget isn't a concern and you want a lifelike toy, Lulu My Cuddlin' Kitty Cat is the toy for you. This fluffy white longhair cat moves like a real cat when you pet and interact with it. This toy pet purrs when she's happy, is the size of a real house cat, and moves several body parts including her head, eyes, and paws. An animatronic cat like this costs around $125 but serves as an allergen-free replacement for the real thing.
Joy For All Companion Pets
Although known for their kid's toys, Hasbro recently produced a line of lifelike animatronic pets marketed to senior citizens called Joy For All Companion Pets. These stuffed animal pets look and feel like real animals, but don't require any of the work it takes to care for a real animal. As companions, these cats provide companionship and relaxation for older people who may spend a lot of time alone.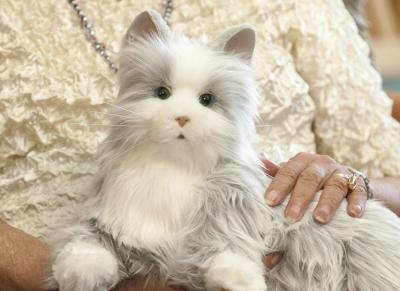 The Companion Cat comes in your choice of three breeds/colors: orange tabby, creamy white, or silver. For just under $100 adults or kids can own a relatively maintenance-free cat. The fur feels like real cat fur and the toy responds to its owners touches by nuzzling, rolling over, and purring among other things. When you pet your cat, it makes the purring sound and vibrates to feel like a real cat's purring.
Purring Plush Pets
A stuffed cat that actually purrs is a wonderful gift for someone who cannot have a real cat. The purring noise adds a little something extra to a plush kitten or cat that really makes it come alive.