26 Best Cat Foods on the Market for Any Need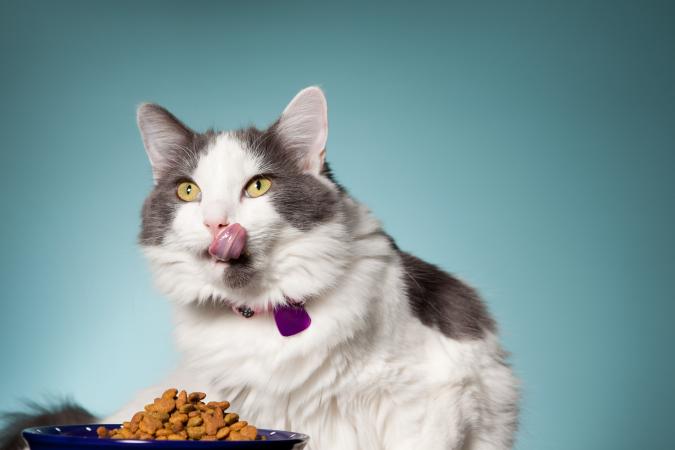 There's always plenty of debate over which cat food brand is the best cat food on the market. The answer really depends on what your specific cat's nutritional needs are and whether they have health conditions to consider. If you're stuck trying to decide what to feed your cat, speak to your veterinarian and consider some of these top brands that receive consistent high marks from industry experts.
Best Wet Cat Food
Wellness Cat Food is a brand that is known for high quality, healthy ingredients. Their wet food options should cover the tastes and preferences of all types of cats. You can choose from their Complete Health, Healthy Indulgence, and CORE grain-free lines, which come in many formats like pâté, gravies, minced, sliced, morsels, and shreds. The canned food is popular among cat lovers, and many varieties are Amazon's Choice products, such as Wellness Complete Health Natural Grain ChickenPâté, which has a 4.2 out of 5 star rating with over 1,100 reviews.
Best Dry Cat Food
There are many excellent dry foods for cats on the market. For an all-around, excellent brand for your average adult cat, Blue Buffalo Wilderness is an excellent pick. The food combines high quality proteins and ingredients at a mid-range price, making it accessible to most cat owners. The Blue Wilderness Adult Cat Food line comes in eight "regular" recipes as well as additional formulas for cats with health issues. Proteins used in the line include chicken, turkey, quail, duck, salmon, halibut, trout, venison, and rabbit. All the recipes do not include poultry by-product meals, corn, wheat, or soy. A sample recipe is the Salmon, which gets a 4.7 out of 5 star rating with over 500 reviews on Chewy.com.
Best Cat Food for Kittens
Because they're growing rapidly, kittens need more protein and fat in their diet than adult and senior cats. While you can feed wet or dry, kibble is a better choice as it's healthier for their teeth. If you want to feed a combination, you can't go wrong with the wet and dry choices from Instinct Original by Nature's Variety. The brand boasts that more than 70% of their recipes are made from real animal ingredients and beneficial oils, with the rest being fruits, vegetables, and other nutrients. The recipes do not have any grains, corn, potato, soy, wheat, by-products, meals, or artificial colors or preservatives. The Instinct Original Kibble for Kittens and Instinct Original Cans for Kittens are both made with chicken as their primary ingredient, as well as salmon and beef liver. The dry kibble gets a solid 5-star rating from Petco users with a 4.6 out of 5 star rating for the canned version.
Best Cat Food for Older Cats
Compared to kittens, older cats are much more sedentary and need food with less fat and nutrients to support their aging joints and improve heart and organ health. Royal Canin makes one of the best foods for senior cats with their Aging 12+ Canned Senior Cat Food. The food comes in thin slices in gravy and a loaf in sauce format. There's also a dry food for seniors 12 and older that's specially formulated for spayed and neutered cats. All versions get a rating of 4.3 or higher from Chewy.com users.
Best Cat Food for Indoor Cats
Several cat food companies make an indoor cat formula, recognizing the need to adjust the diet for cats that are healthy but may not be quite as active as indoor/outdoor cats. One of the best choices for your indoor cat is Purina Beyond Simply Indoor Grain Free Wild-Caught Salmon, Egg & Sweet Potato Recipe Dry Cat Food. It contains ingredients to help control hairballs, which can happen more often with indoor cats, as well as probiotics. It also contains no wheat, soy, corn, poultry by-product meal, artificial colors, flavors, or preservatives. The food gets a 4.8 out of 5 rating on Purina's website with over 100 reviews and a 4.6 out of 5 with over 200 reviews on Chewy.com.
Best Cat Food for Outdoor Cats
Unlike indoor-only cats, outdoor cats tend to get more exercise as they spend more time roaming around outside. This means they have higher energy requirements and need a nutritional formula that can help them stay active. Royal Canin has a great option for these cats with their Fit and Active Dry Cat Food which is specifically designed for outdoor adult cats. In addition to a higher calorie level for active cats, it contains antioxidants, vitamins, and minerals to promote a strong immune system. This Royal Canin recipe gets an excellent 5-star rating from happy Petco users.
Best Grain-Free Cat Food
One of the best grain-free options for cats is the brand Taste of the Wild. The brand is known for featuring a wide variety of protein sources that are based on an animal's natural diet. There are three dry cat recipes: Rocky Mountain Feline Recipe with Roasted Venison & Smoked Salmon, Lowland Creek Feline Recipe with Roasted Quail & Roasted Duck and Canyon River Feline Recipe with Trout & Salmon. The number one ingredient in each recipe is an animal protein, and they include probiotics, antioxidants, omega fatty acids, DHA, fruits, vegetables, and legumes. The Rocky Mountain Feline recipe is an Amazon's Choice product with over 1,500 reviews and a 4.6 out of 5 star rating.
Best High-Protein Cat Food
Cat foods that are higher in protein and lower in carbohydrates may be helpful in keeping your cat's waistline trim, as well as potentially reducing the chances of getting diabetes. You should speak to your veterinarian if you're unsure as a high-protein diet doesn't work well for every type or age range of cat and can be counterproductive with some medical conditions. A solid choice for a high protein cat food is the brand Crave. The food has 40% protein and 24% carbohydrates and is grain-free. The food comes in three flavors: Chicken, Salmon & Ocean Fish, and Chicken & Salmon. The Crave Chicken Adult Dry Food gets a 4.6 out of 5 star rating from over 100 Petco reviewers.
Best Limited Ingredient Cat Food
Limited ingredient diets (LID) are popular with pet owners who are concerned with too many artificial ingredients in their pet's diet. They also are believed to be hypoallergenic and can help animals that have sensitivities to certain foods. If you suspect your cat has a food allergy, speak to your veterinarian to rule out any other medical issues. For a food choice, one of the original LID brands is Natural Balance, and they're still one of the best. You can choose from six dry kibble recipes and five canned food formulas. The Green Pea & Salmon Formula dry food is particularly popular, with a full five-star rating on the Natural Balance site and on the Petco.com site with over 100 reviewers.
Best Raw Cat Food
Raw feeding has become popular among health conscious cat owners who believe it's a more natural way to feed their pets. One of the best brands for raw food for cats is Stella & Chewy's. Stella & Chewy's makes raw food for cats in frozen, freeze-dried, and kibble formats, as well as a wet food that you can use as a meal or a topper. The company says their food is veterinarian approved and made with a patented safety process to keep it free of any harmful bacteria. All the Stella & Chewy recipes carried by Chewy.com are highly rated, with the Duck Duck Goose Dinner Morsels receiving a 4.5 out of 5 star rating with over 300 reviews.
Best Freeze Dried Cat Food
Primal gets an A+ rating for their freeze-dried nuggets. Primal's line of freeze dried nuggets comes in seven flavors including Beef & Salmon, Chicken & Salmon, Duck, Pork, Rabbit, Turkey, and Venison. All are made with high-quality, fresh proteins that are antibiotic, hormone, and steroid-free, and the food is Certified Organic. It's also grain-free and contains no gluten, corn, soy, wheat, or peas. Chewy.com users give the Primal Duck Formula Nuggets a 4.4 out of 5 star rating.
Best Tasting Cat Food
It's hard to know exactly which cat food tastes the best as you can't ask cats their opinion. But based on looks, aroma, and nutritional value, clearly Nom Nom would be any cat's favorite meal. The food was created by a board certified veterinary nutritionist and was designed to be highly palatable to even the pickiest cat. It's received plenty of press acclaim and high reviews from happy users. There are two recipes for cats. The Chicken Cuisine contains chicken thighs and breasts, chicken liver, carrots, asparagus, cantaloupe, and spinach. The Fish Feast contains tilapia, salmon, beef fat, yuca, and carrots. The food is available via delivery only.
Best Cat Food With Taurine
Taurine is an amino acid that cats need for healthy heart, vision, digestion, and immune functions. It's also needed for pregnant cats to develop healthy kittens in the womb. Several cat foods contain taurine, and a great dry food choice is American Journey Turkey & Chicken Recipe. Not only is it filled with high quality proteins, but it's one of the more affordable boutique cat foods. It's also grain-free and has no soy, wheat, or corn. In addition to taurine, the food has beneficial nutrients, amino acids, omega fatty acids, and antioxidants. Chewy.com cat lovers praise the food with an average rating of 4.6 out of 5 stars with over 1,300 reviews.
Best Grocery Store Cat Food
You might think that cat food sold at the grocery store isn't as good as brands available only at pet stores. However, you can find high quality foods at affordable prices at your local supermarket. One of the best is Rachael Ray's Nutrish PEAK line, which has a high protein content at 40% and it's grain-, corn-, wheat-, and soy-free. The dry food comes in Woodland Catch Recipe with Chicken, Trout & Salmon, Open Water Recipe with Salmon, Atlantic Cod & Mackerel, and Indoor Formula Rustic Woodlands Recipe with Chicken, Turkey & Duck. Shoppers at Walmart gives the Woodland Catch Recipe 4.5 out of 5 stars with over 100 reviews.
Best Cheap Cat Food
Sometimes, budget keeps people from feeding cats higher-end brands, but this doesn't mean you have to skimp on their nutrition. There are many quality foods that come at more affordable prices. Diamond Naturals is a cheaper brand that still has a high protein content at 44% and a fairly low carbohydrate content compared to other lower cost foods. The food is around $1.44 per pound. Diamond Naturals dry food comes in Active Cat Chicken Meal & Rice, Indoor Cat Chicken & Rice, and a kitten formula. Chewy.com users like the food, giving the Active Chicken Meal & Rice Formula a 4.6 out of 5 star rating with over 100 reviews.
Best Cat Food for Cats With Health Problems
Unfortunately, cats can suffer from a variety of health problems that require a change in diet. Some of these foods will require a veterinary prescription, but even if they don't, it's wise to discuss the diet with your veterinarian first to make sure your cat is getting the right diet to keep them healthy.
Best Cat Food for Kidney Disease
Your veterinarian will help you determine the best diet to help a cat dealing with kidney disease. One of the best kidney support cat diets is made by Royal Canin. There are both dry and canned options among Royal Canin's Renal Support line of foods. The different recipes are designed to stimulate cats who don't feel up to eating and are energy-dense to provide nutrition for cats who have a harder time maintaining their appetite. All the Royal Canin Renal Support diets require a veterinary prescription for purchase.
Best Cat Food for Sensitive Stomach
It's not unusual to have a cat with a sensitive tummy, and this gastrointestinal upset can lead to vomiting, diarrhea, and discomfort for your poor feline. A change in diet can help with sensitive stomachs by providing probiotics and prebiotics for improved digestive health as well as high quality proteins, vegetables, and other ingredients. One of the best foods for cats with sensitive stomachs is Blue Buffalo Sensitive Stomach Natural Adult Chicken & Brown Rice Dry Cat Food. Its first ingredient is real chicken, and it has Blue Buffalo's trademarked "LifeSource Bits" with antioxidants. The food gets a five-star rating from over 300 users on Petco.
Best Cat Food for Weight Loss
One of the problems with many foods designed to help obese cats lose weight is that cats don't want to eat them. Instinct Raw Boost Healthy Weight Grain-Free Recipe is one of the best foods for cats that need to lose pounds because it's mix of quality, high-protein kibble and freeze-dried raw bits is sure to entice any fussy cat. It also contains L-carnitine to help your cat burn more fat. Amazon.com cat lovers give the food 4.5 out of 5 stars with over 100 reviews, and many note that the food has not only helped their cats lose weight, but they enjoy eating it too.
Best Cat Food for Diabetic Cats
Your veterinarian should help you find the best food for your diabetic cat, as it may be possible to choose an over-the-counter option depending on the severity of your cat's condition. For cats that need a prescription diet for diabetes, Royal Canin's Feline Glycobalance is one of the best available. The food is designed to keep a cat's blood glucose levels stable and maintain a healthy weight with a high protein, moderate fat, and low starch recipe. It comes in a canned formula with thin slices in gravy that most cats will enjoy eating.
Best Cat Food for Allergies
Dealing with allergies can be miserable for a cat, and a change in diet can sometimes make a big difference for the cat's quality of life. Before you switch your cat's diet, your veterinarian should examine your cat to make sure that allergies are truly the culprit for your cat's discomfort. One of the best foods for cats with skin allergies is Blue Buffalo Basics Grain Free Dry Indoor Cat Food for Skin Conditions. It's a limited ingredient diet that uses proteins cats are not known to have reactions to, such as duck and peas. It also does not include foods that commonly provoke an allergic reaction such as eggs, beef, chicken, corn, soy, and wheat. The line comes in three flavors: Duck and Potato, Fish and Potato, and Turkey and Potato. There's also a version of the Turkey and Potato especially for senior cats. Blue Buffalo Basics LID is an Amazon's Choice product and the Duck and Potato recipe gets a 4.6 out of 5 star rating with over 1,300 reviewers.
Best Urinary Health Cat Food
Urinary tract infections are a common complaint with cats that requires a trip to your veterinarian. While prescription diets are often used for this condition, they may advise you to use an over-the-counter food, which can be significantly cheaper. Purina Pro Plan Focus Adult Urinary Tract Health canned cat food is an excellent option that you can buy without a prescription. It comes in five different flavors as well as in a dry version. The food has a very high rating among users, with over 3,500 satisfied customers on Amazon giving it a 4.5 out of 5 rating. It's also an Amazon's Choice product.
Best Cat Food for Constipation
A diet that has more moisture content and fiber can help cats dealing with constipation. In this case, canned wet food is preferable to dry food, and one of the best options for constipated cats is the canned Weruva Cats in the Kitchen brand. In particular, their perfectly named recipe, Funk in the Trunk, is excellent for cats with constipation because it contains fiber-rich pumpkin. Users on Chewy.com agree, with over 100 giving the Funk in the Trunk Chicken Pumpkin Consomme recipe 4.5 out of 5 stars for helping their cats improve their bowel movements.
Best Cat Food for Diarrhea
On the flip side of dealing with constipation is having a cat suffering from diarrhea. This can be very uncomfortable for a cat, and veterinarians often recommend a diet change to help get the cat's intestines back on track. One of the highest-rated prescription diets for cats with diarrhea is Hill's Digestive Care I/D Canned Cat Food with Chicken. It's designed by veterinarians, nutritionists, and food scientists to be palatable to cats with poor appetites due to sensitive stomachs. It also has ingredients to prevent urinary problems. It's also suitable for cats and kittens. Over 300 Chewy.com users give the formula 4.5 out of 5 stars.
Best Cat Food for Smelly Poop
Sometimes, your cat's feces can smell particularly bad. This is definitely a sign that you need a medical checkup for your cat, but in the event nothing healthwise is found to be amiss, a change in their food can help. Ziwi Peak Canned Cat Food is one of the best foods for this issue because of its focus on high quality, natural ingredients and flavors. The limited ingredient diets have up to 97% meat, organs, bone, and seafood, and there are eight recipes to choose from. It's also made with zero gelling agents, sugars, glycerin, preservatives, grains, corn, soy, wheat, potatoes, rice, fillers, meals, or potatoes.
Best Cat Food for Shedding
All cats shed, but some cats can definitely shed more than others. A change in diet can help with the shedding, along with a regular grooming routine. The best canned food for shedding cats is I and Love and You Savory Salmon Recipe. The food is rich with omega fatty acids and high quality ingredients like salmon, chicken liver, chicken, cranberries, and spinach. It's designed to give your cat a healthy coat and skin, which can help reduce shedding. Users on the manufacturer's website give it a 4.9 out of 5 rating and Chewy.com users give it a 4.7 out of 5.
Best Hairball Cat Food
Hairballs can be an annoying problem for you and your cat. Your cat's diet can help with reducing or entirely eliminating hairballs from forming in the stomach. Royal Canin Hairball Care Dry Cat Food is considered the most effective formula for dealing with this common feline issue. The food is full of fiber to promote a healthy gastrointestinal tract. You can also mix it with the canned version. The dry food is an Amazon's Choice product with a 4.7 out of 5 rating and over 500 happy reviewers.
What's the Best Cat Food for Your Cat?
Cat food choices are often subjective, and what works for one person's cat may not work as well for yours. Research the available brands based on your cat's activity level, age, and any medical issues they might have to find what nutritional mix works best for your kitty. Always talk to a veterinarian if you suspect a health condition may be affecting your cat and monitor changes in diet for stomach upset like diarrhea and vomiting.