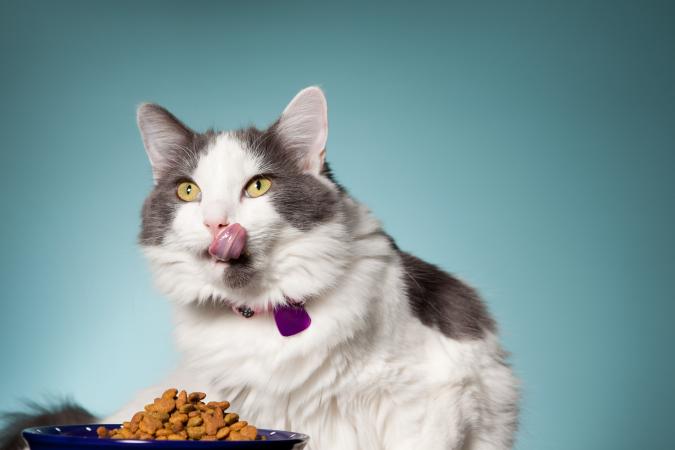 There's little agreement about which brand of cat food is truly the best, and no single manufactured food offers perfect nutrition. However, there are a few brands that do show up consistently in top reviews that offer consumer reports. Take a look at the criteria for a top-notch cat food and then examine five brands that meet those standards.
Criteria for the Top Five Brands
While you'll see fancy labels on many brands that claim to be certified organic, holistic, or superior in some other way, the truth about any cat food's quality is revealed in its ingredients list. The five cat foods listed below all meet some basic criteria that are supported by Vet Info and Doctors Foster and Smith.
A truly top-quality cat food should:
Use named meat protein sources
Contain no by-products
Contain no fillers such as corn, wheat, or soy
Contain no artificial ingredients or preservatives
Since ingredients are listed by weight, a look at the first five ingredients in any brand will give you a good idea about its true quality.
Top 5 Best Cat Food Brands
No matter what the year... 2019 or beyond, these top cat food brands stand the test of time. Who wants to change their cat food each year when the next best list comes out. Changing a cat's diet isn't good for them, especially as they get older. Stick to these five best cat foods and know they stand the test of time.
1. Orijen Dry Adult Cat and Kitten Food
Orijen receives top ratings from Consumer Search for the quality of their meats as well as the high ratio of meat to other ingredients. This brand uses mainly fresh meats; about two-thirds of their meat is fresh while the remaining third is raw and has been flash-frozen. They source them locally from the same region in Canada where the food is made.
"The Orijen brand of food is what I believe to be the best dry cat food available on the market. My cat's fur, energy levels, and dental health have vastly improved since being switched to these foods and treats. I am also happy to support a Canadian company. I would recommend this brand to anyone." -- Reader comment from Rebecca
Breakdown of Nutrients
The formula is 85 percent protein, and 15 percent fruits and vegetables. Even though most cats are obligate carnivores and would probably not seek out fruits or vegetables, some of these foods would naturally be found in the stomachs of their prey if they were hunting in the wild. The fruits and vegetables included in this diet provide an assortment of essential vitamins and minerals in a "bioavailable" form, which in plain language means they're highly digestible so your cat's body can extract the nutrients and make full use of them.
Top Five Ingredients in Orijen Dry
The first five ingredients in this formula are:
Fresh chicken meat
Fresh turkey meat
Fresh whole-nest laid eggs
Fresh chicken liver
Fresh or raw whole wild-caught flounder
This food also contains no grains, by-products or artificial ingredients, and it's preservative free.
Where to Buy
Orijen cat food is sold by Amazon, where a 5-pound bag is around $24 and a 12 pound bag is about $59. However, you can also find local distributors and other online sources by visiting the Orijen website.
2. Halo Spot's Stew Wholesome Chicken Recipe
The canned Halo Spot's Stew Wholesome Chicken Recipe was rated best wet cat food by Consumer Research. This holistic food is formulated with vitamins and minerals and uses whole food ingredients. This brand of cat food is grain free, and never uses chicken meal, by-product meals or any rendered meats, and its cans are BPA free.
Top Five Ingredients in Halo Spot's Stew
The first five ingredients are:
Chicken
Chicken Broth
Chicken Liver
Carrots
Zucchini
This product contains no artificial ingredients, flavors, or preservatives.
Where to Buy
You can purchase a case of 12 cans of Halo Spot's Stew directly from their website for about $25, or you can search their list of retailers for a store near you.
"It's really tough to compare all the pet foods out there now. One of the most important aspects to evaluate for a food is the AAFCO/nutrition statement. This can be found somewhere on the package or on the brand's web site." -- Reader comment from Clare Deming
3. Wellness CORE Original Dry
Pet Food Talk gives Wellness a rating of five out of five stars for its natural ingredients and high-quality protein sources. Customer reviews at Amazon also give this food 4.2 out of five stars based on how willing the cats were to eat it, as well as how their condition improved after being on this formula. This is a completely grain-free diet, with no artificial ingredients or preservatives. It also contains probiotics for improved digestion, as well as flaxseed and salmon oils, which contain essential fatty acids.
First Five Ingredients of Wellnes CORE
The first five ingredients are:
Deboned Turkey
Deboned Chicken
Chicken Meal
Whitefish Meal
Herring Meal
Where to Buy
Two pound, 5.9 pound and 12 pound bags may be purchased on Amazon, ranging in price from around $21 to $43. In addition to Amazon, your local Petsmart, Petco, and Pet Supplies Plus also carry the brand. Check Wellness's store locator to find the retailer closest to you.
4. Nature's Variety Instinct Canned Chicken Formula
Canned cat food provides more moisture than dry, so it can be a healthier alternative to dry food for many cats. However, it's difficult to find wet food that doesn't contain the thickener carrageenan. Natures Variety is one of the few products that leave those thickeners out of their formulas. This formula is 95 percent chicken meat and liver, and five percent vegetables, fruits and other healthy ingredients. This food is also grain-free and gluten-free. Customer reviews at Pets 360 give this food an approval rating of 4.4 out of five for its natural ingredients and nutritional value.
First Five Ingredients in Nature's Variety Instinct
The first five ingredients are:
Chicken
Turkey
Chicken Broth
Chicken Liver
Flaxseed
This formula also contains montmorillonite clay, an ingredient you may have never run across before. It's a natural anti-caking agent and source of minerals.
Where to Buy
You can find Nature's Variety at your local Petco for about $25 for a 12 can case. Use the company's store locator to find retailers near you.
"You really nailed it by putting Nature's Variety Instinct canned foods on this list. So many lists I've seen haven't included that brand! I've been feeding it to my cats now for almost 2 years and I swear by it!! Because It's a bit pricey, I often mix it in with another NV product called Prairie Homestyle (which isn't grain-free). I've recently started swiching out the Homestyle for some other brands and products, but refuse to turn my back on Instinct, which I believe is one of the best cat foods on the market." -- Reader comment from Radar
5. Blue Buffalo Wild Delights Canned Chicken and Turkey
Pet Food Talk gives a five star rating to the entire Blue Buffalo line, including canned and dry foods, because of the care they take to ensure only the healthiest ingredients go in. Blue's Wild Delights is formulated to be as close as possible to a cat's natural diet if it were living in the wild. This formula is grain and gluten-free, contains no by-products or fillers, and uses named, high-quality meat proteins. It's also free of artificial colors, flavors and preservatives, and contains no corn, wheat or soy.
First Five Ingredients of Blue Buffalo Wild Delights
The first five ingredients are:
Chicken
Chicken Broth
Water
Turkey
Chicken Liver
Where to Buy
Blue is readily available for under $2 per can at your local Petsmart, as well as many feed stores. Use their store locator to find a source nearest to you.
Always Check the Ingredients
It's the nature of the pet food business to change formulas and ingredients without any notice. This means that the food that meets the highest quality standards now may not meet them forever. So, it's up to cat owners to check the ingredients list each time they buy a new supply of food in order to be sure that their favorite brands are still the top foods available.
Submit Your Reviews in the Comments
Do you have a personal experience with any of these brands? Is your favorite not on our list? Please share your stories with our community in the comments below!