14 Best Wet Cat Foods for the Healthiest Cat
Choosing the best wet cat food can take some time and research due to the wide variety of brands and recipes available. Consider several factors when looking at cat food choices, including the age of your cat, their activity level, and whether they have any health problems where diet can exacerbate their symptoms.
Healthiest Wet Cat Food
Wellness has long been a brand name synonymous with high quality, healthy ingredients. Wellness Complete Health Pȃté Cat Food is Feline Living's top choice for wet cat food due to its use of quality proteins among its first few ingredients. It's also high in protein, grain-free, and contains no carrageenan, artificial colors, flavors, or preservatives. It comes in nine flavors including chicken, chicken and herring, and turkey. Chewy.com users give the food a 4.2 out of 5 star rating with over 600 reviews.
Best Quality Affordable Wet Cat Food
If you're on a budget, you can still feed your cat a decent brand of food. Fancy Feast Roasted Turkey Feast Canned Cat Food is veterinarian recommended for its ingredient mix. It has a high-protein value with low carbohydrates and low fat, and it won't break the bank.
Best Wet Cat Food for Kittens
Kittens have special nutritional needs compared to adult cats, so it's very important for their development to feed an appropriate diet. One of the best canned kitten foods is Instinct Grain Free Recipe By Nature's Variety. It's high in protein and fiber with healthy ingredients for your kitten's growth like omega fatty acids and natural DHA. There are also no grains, potato, corn, wheat, soy, by-products, artificial colors, or preservatives.
Best Wet Cat Food for Senior Cats
Senior cats need a different nutritional mix than kittens and adults due to their decreased level of activity and the effects of the aging process. Royal Canin Aging 12+ Thin Slices in Gravy Canned Cat Food is recommended for senior cats that are age 12 or older. It includes glucosamine for your older cat's joints and phosphorous for the kidneys. It's also designed to be easier to eat for senior cats that may have dental problems or missing teeth.
Best Grain-Free Wet Cat Food
Cat Life Today recommends Purina Beyond Wild Wet Cat Food as the top wet cat food that's also grain free. It contains no wheat, corn, soy, poultry by-product meal, artificial flavors, colors, or preservatives. It also has excellent quality proteins as its primary ingredients. It comes in two flavors: turkey, liver and quail, and salmon, liver and arctic char.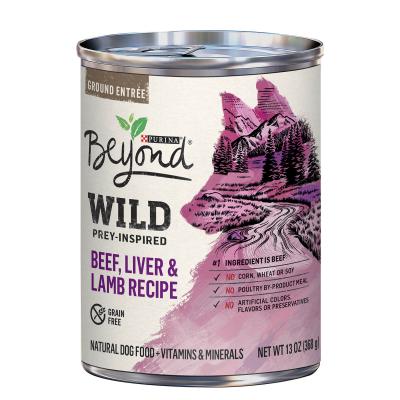 Best High-Protein Wet Cat Food
If you choose to feed your cat a higher protein diet, one of the best options is Tiki Cat Hana Grill Ahi Tuna with Crab in Tuna Consommé. The food is recommended as the best high protein wet cat food by Feline Culture, which cites the level of protein versus carbs.
Best High-Calorie Wet Cat Food
High-calorie cat food isn't the norm for most cats, but it works well in cases where you need a cat to gain weight. Your veterinarian can help you with deciding on how to increase your cat's diet safely. In some cases, they may prescribe food to you such as Hill's Prescription Diet a/d K9/Fel Urgent Care, which is one of the best high-calorie cat foods. It's made for cats that are recovering from surgery or an illness and not only is higher in calories, but designed to entice picky cats to eat.
Best Wet Cat Food for Indoor Cats
Indoor and indoor/outdoor cats do not really need to eat different diets, but if you're not providing your indoor cat with enough physical outlets, they can gain weight more quickly than an outdoor cat that spends its days roaming. Wellness Core Pȃté Indoor Cat Food is a recommended choice for indoor cats with a low-fat recipe specifically made for less active acts.
Best Wet Cat Food Brands for Cats With Health Problems
Cats that suffer from certain medical problems can benefit from a special diet designed to alleviate their condition. Other special diets are made to support health conditions by not stressing the system any more than necessary. Consult with your veterinarian before deciding on a diet for your special needs cat.
Best Wet Cat Food for Weight Loss
Obesity is a big problem for cats, particularly older and indoor cats that aren't provided with physical outlets. In addition to providing them with more exercise, a special weight-loss diet can help trim your fat kitty. Royal Canin Ultra Light Canned Weight Loss Cat Food is one of Idle Cat's recommendations for obese cats because it's nutritionally balanced and low in calories.
Best Wet Cat Food for Sensitive Stomachs
Cats that have a sensitive stomach may do better on food that's made just for their gastrointestinal needs. One of the best wet cat foods for sensitive stomachs that does not require a prescription is Halo Grain Free Natural Wet Cat Food for Sensitive Stomachs. It uses proteins such as rabbit and quail and no artificial preservatives, ingredients, or grains.
Best Wet Cat Food for Diabetic Cats
An appropriate diet can help a diabetic cat to reverse the effects of this deadly disease. Therefore, it's important to clear your choice of your diabetic cat's diet with your veterinarian to make sure it will work for your cat. Cat Life Today's top food pick for diabetic cats is the veterinarian-approved Royal Canin Feline Glycobalance Morsels in Gravy.
Best Wet Cat Food for Cats With Food Allergies
If you think your cat is suffering from a food allergy, speak to your veterinarian before you change their diet. Food allergies in pets are actually rarer than many pet owners think, and you want to make sure you've identified the correct ailment to help your kitty feel better. While some hypoallergenic foods are prescription only, a recommended food for allergic cats is the over-the-counter Instinct Limited Ingredient Diet. The food comes in three flavors: rabbit, turkey, and salmon and has only one protein and one vegetable per formula.
Best Wet Cat Food for Cats With Hairballs
Hairballs can be a common problem with medium to long-haired cats and cats that live indoor only, although it can be an issue for short-haired and indoor/outdoor cats as well. A change to a higher fiber diet can help hair move out of the stomach and prevent more hairballs. My Pet Needs That recommends Hill's Science Diet Hairball Control Savory Chicken Entree Cat Food as the best wet cat food for cats with hairballs.
Best Wet Cat Food for Cats With Urinary Tract Infections
Urinary tract infections, or UTIs, are another common disorder among cats. Diet can help to alleviate the symptoms and prevent future UTIs from occurring. One of the best wet foods for cats with urinary tract infections is the prescription-only Royal Canin Veterinary Diet Feline Urinary SO Canned Cat Food. The food is designed to keep calcium oxalate stones from forming and to break down and prevent struvite stones that can cause pain and discomfort for cats.
Finding the Healthiest Wet Cat Food for Your Cat
If you're unsure which of the many options to choose from when it comes to wet cat food, speak to your veterinarian to get their input. You should consider how much daily activity your cat gets and whether they have any current or potential health concerns to find the food that works best for you and your feline pal.